Sherlock
Two years ago I wrote about The Buckner Banner.  I rode the USNS Simone Bolivar Buckner to Germany and home two years later.  For some reason known only to the military gods, I was chosen to edit the ship's newspaper, The Buckner Banner, although I was a lowly private.  It was great fun, and our nine issues were a big hit because we serialized a Sherlock Holmes novel.
There were civilians aboard, military dependents, and lots of troops in the middle of the Atlantic Ocean for nine days with little to do.  The Banner was printed on a worn-out mimeograph machine, and the result was lots of gaps and unreadable copy in the paper.  Passengers got involved in the story and had great fun trading issues back and forth to be able to read each installment.
I got lots of compliments, and had the run of the ship as newspaper editor.   Strangely I have never read Arthur Conan Doyle's works until now.  Sherlock is one of the best-known fictional characters in English.  He is probably better known today than in the Victorian era because of movies and television.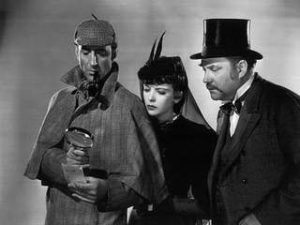 Basil Rathbone starred in seventeen Sherlock movies.  Robert Downey Jr. starred in a movie, and there are two current TV shows, Elementary, set in New York and starring Jonny Lee Miller and Lucy Liu (Dr. Watson a woman!); enjoying a five year run, and Sherlock, starring Benedict Cumberbatch and Martin Freeman, also with a long run with just a few episodes each year.  At least 99 actors have played Sherlock.
We are steeped in Sherlock Holmes.  Barnes and Noble has a two volume edition of Doyle's Sherlock stories, and I am well into Volume One.  The story I just finished is set in London and Brigham Young's Utah.  The Mormons had a lot of bad press in Doyle's era, what with polygamy and Brigham's Theocracy.  The story reflects that bias, featuring three murders.
Doyle gives the Saints a bad rap, but a lot of their infamous deeds were a response to the persecution the saints endured in Missouri and Illinois, which led to their trek west.  2017 is not the only time people in America have faced religious discrimination; hate directed against Jews, Catholics, and Mormons for starters.
This was part of Doyle's appeal.  He made the events of the Victorian era come alive for his readers then. They come alive for us now, here in a land of Anglophiles.  I am going to have a lot of fun with Sherlock, Watson, and company.