A hot topic these days, sexual abuse and harassment can cut both ways.  Men can be sexual abuse survivors as well.  I am.  As a child, my mother gave me enemas I did not need.  I remember my helplessness as she draped me over her lap and stuck the tip up my butt.
The act itself was bad enough, but what has stuck with me the most about the experience was the seductive tone of her voice.  I never heard that voice in any other context.  My physical sensation was somewhat erotic but was overshadowed by my feelings as I felt the water entering me.
I felt fear, revulsion, humiliation, helplessness, and an inability to move.  I was paralyzed by my feelings.  The fear was most powerful.  I couldn't stop her, but I wanted to have anything happen to me other than what she was doing.   My fear was constantly rekindled by seeing that red rubber enema bag hanging from the towel rack in the bathroom.  We had only one bathroom, so I could not avoid encountering the thing every time I went there.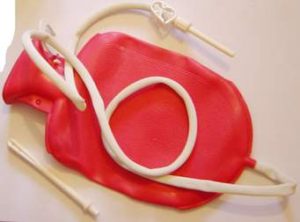 The most revolting object in the universe for me is a red rubber enema bag.  I just looked, they still sell the things.  The enema bag was a constant reminder of my helplessness.  Mother was the most powerful person in my world and what she was doing to me was something I could not avoid.  I didn't feel I had the right to hate what she was doing.  I just had to endure.
As I grew bigger, the enemas stopped.  I felt no sense of relief, I was doing my best to block the experience out.  I actually never thought about the enemas, but my body remembered.  From that time on I have had difficulty with anal fissures, probably from holding myself closed all the time.  I eventually had surgery to deal with the abscess that developed in my rectal canal.
I grew, there were no more enemas.  At puberty, my sexuality awakened, and like almost every young male I turned to masturbation.  I was afraid of girls and their potential power.  Masturbation was my outlet.  Safe.  Then, one day I was in my bed masturbating and my mother walked into the room.  As the door opened I stopped, yanked up the covers, and just laid there.  She came over and her hand went under the covers and then retreated.
She turned and walked out of the room.  As she walked out she said something in that seductive tone I had not heard since the enemas stopped.  Not long after she got ovarian cancer and died after wasting away for more than a year.  She died around the time of my sixteenth birthday.
The entire experience has dramatically affected my sexuality.  I am mostly incapable of sustaining a truly relational sexual relationship.  My recurring fantasies of being in total control almost always surface.  Sexual partners can sense my disconnect with them.  As I mentioned, I remain afraid of women where there is a potential for sexual attraction.  I am most comfortable with lesbians. As I have aged, the problem has diminished, but never left me despite years of therapy.
I was in a men's therapy group for a while.  We were all sexual abuse survivors.  One evening a new member of the group mentioned he had the same enema experience as a child.  He wasn't sure whether he needed the enemas or not.  Several of us simultaneously said "Have you ever had enemas since?"  Well, no.