The Summer Of Our Discontent
What a time!  It's hot about two weeks early for this area.  I got a replacement toolbox for my Toyota Tacoma's toolbox.  The old one failed because I haul so much stuff around.  Fortunately it had a lifetime guarantee.  We seem to be spending entirely too much time in doctor's offices; me getting pre-cancerous patches frozen on my head, Carol with eye trouble, and her son with a broken wrist and atrial fibrillation.
On the positive side, our garden is looking great, no hail this year so far.   We are going to have a big raspberry crop, the flowers are beautiful, and all the veggies are growing away.  Things seem to be going fairly well for an old couple.
There is tragedy in the land.  Murdering large groups of innocent people just trying to have a good time is terrible.  There has to be some means in place to restrict weapons solely designed for killing large numbers of people.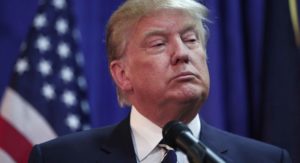 The reason I am writing this, however, is about the current political situation.  The U.S. Has a long tradition of sending poorly qualified people to the White House, but this is getting ridiculous. This guy the Republicans have chosen to run has managed to combine all the worst qualities of American politicians in one outrageous package.  The man has no qualifications to lead the nation in any direction other than backward, and possibly into chaos.  Just his hair should be a cue.  What are those people thinking?
I understand the discontent.  A lot of people are not liberal and want leadership addressing their problems.  Stagnant wages, a lack of good skilled industrial jobs, and rapid change rather than a safe, stable, comfortable life like Ward, June, Wally, and the Beav lived.  They forget that the Cleavers didn't exist, they were just a TV show.
They sit in front of the TV watching pretty people having a crisis which always has a happy ending.  Their lives aren't so happy, and they are angry about it.  So here comes a TV show host who says he can fix everything.  He will get rid of "those people", give them good jobs, make the country safe, and put steak on the plate and a nice diesel Super Duty pickup in every driveway.  If there is trouble, the Marines can stop it.  The country will regress or else.
The mainstream Republican approach is to make rich people richer, take away benefits, and cut schools, highways, parks, sell the government land off. and send their sons off to endless wars.  Congress is paralyzed.  That plan has run its course.  The only reason it worked at all is the rich ones spent lots of money fooling people and buying politicians.
The result is Donald Trump.  He says he can fix it.  Well, no.  The man seems to have no idea how our government works.  He thinks he can issue commands on impulse and get an immediate response, whether his commands are legal or not.  The only things he really wants are adulation and a chance to get rid of those who ask the wrong questions.
Hillary has done a lot of things well, but she has a past.  Trump will sling as much dirt as he can, hoping enough will stick to her to get him elected.  It worked with the primaries,  let's hope it won't work for the Big One.