Nuking Western Colorado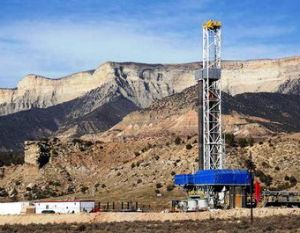 In the late 1960's and early 1970's, Project Plowshare, a U.S. government program was created to develop peaceful uses for nuclear detonations. The program led to three trials in rural Western Colorado designed to release natural gas from tight geologic formations that contained large amounts of natural gas.  The gas was there, but was difficult to recover because it would not readily flow to wells.  Nuclear fracking, in other words.
The idea was to fracture large amounts of rock releasing the gas for use. Fracking was in use in that era, but the area fractured around a well hole was fairly small, limiting the amount of gas freed.  This would remain the case until horizontal well drilling was developed, resulting in a boom in natural gas production.
The use of atomic explosions somewhat larger than the one that destroyed Hiroshima would fracture a large amount of rock, liberating huge amounts of gas.  There were three experiments.  All three were somewhat successful, yielding gas in recoverable amounts.  Big surprise, the gas was radioactive and remains so.  A study indicated that the level of radioactivity released in a California home, when blended with gas from other sources, would be well below the dose we receive from background radiation. People would have none of it.  No one wanted radioactive natural gas coming into their home at any level.
Western Colorado, source of much of the uranium used in nuclear bombs, had three detonations in a doomed experiment.  The most casual of examinations of the proposal to liberate gas from tight strata would raise the radioactivity question.  It took millions of dollars to prove the obvious: radioactive natural gas.
Some shots were done at the Nevada test site to explore using bombs to excavate.  Huge amounts of radionuclides were released, affecting generations of downwinders, especially in St. George, Utah.  Our nuclear tragedy started in New Mexico with the first Trinity detonation that led to Hiroshima and Nagasaki.  It continues today, with all the radioactive spots around the planet and the people sickened and killed by fallout.
Most historians assert that President Truman's decision to bomb Hiroshima and Nagasaki ultimately saved lives.  What they did do was trigger the nuclear arms race with its terrible consequences.  Chernobyl and Three Mile Island have shown that nuclear power is risky as well.
My first literary effort was a story I wrote while a student at Mesa College in Grand Junction, Colorado in 1966.  Project Rulison was in the works, and my story depicted an even greater failure.  The blast sent radioactive oil into a previously unknown aquifer that opened into the irrigation canals that provide water to Grand Valley farms.  Radioactive oil in Palisade, Grand Junction, Fruita, and the rest of the valley, rendering it uninhabitable.  Pure fiction, but a fun story.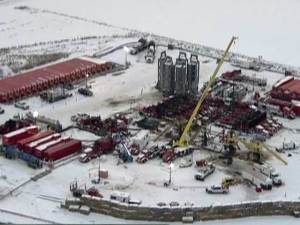 Come up to today, and fracking is still controversial. I think the legacy of Project Rulison is stalking the oil and gas industry to this day.  Somehow the industry did not get it that bad practices will catch up with them, despite the API's slick commercials.