Holiday Decorations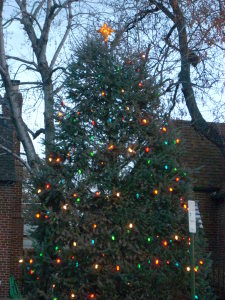 Carol and I have always been ambivalent about elaborate holiday decorations.  We have had natural trees, artificial trees (boo), and now a little painted plywood tree made by a former coworker.  Decorations go on the mantel; there are colorful magnetic ornaments on the refrigerator door, a Santa on the stand in the foyer, and a Menorah in the front window.
The big one is the 20 foot tall tree in front of the house.   A few years ago something inspired me to light the tree.  This entailed quite a project.  The tree is between the street and the sidewalk, so I had to tunnel under the sidewalk to install a two inch pipe for the electric cord.  We didn't want a cord tripping people on the sidewalk.  I dug, I pounded, tried a water jet,and dug some more.
The pipe is in, is capped and doesn't show most of the year.  After Thanksgiving I run a long extension cord from the tree, throughout the pipe, and up to the outlet on the side of the house. We decided to be old fashioned and use large colored bulbs rather than the mini lights popular today.  Seven strings of lights for that big tree.
Next comes the hard part, getting those lights up.  We have a big lighted star on top.  Several seasons of trying methods have come up with the solution of putting the star on a stick and bungeeing it to the trunk.  The problem is getting it up there without killing myself.  That tree is TALL.  I have wobbled on the top step of my eight foot stepladder, tried to place it with the long hooked pole I use for hanging the light strings, and prayed, while Carol is on the ground crying and wailing.
This year I drug out the 20 foot extension ladder after deciding my life was worth breaking a few branches on the tree.  It turns out there is a sturdy side branch in just the right place to support the ladder.  I firmly believe I have a guardian angel.  Without that angel I would be dead many times over.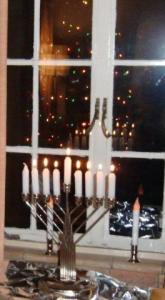 With the star up, is is just the matter of winding those strings of lights around the tree.  Carol holds the string, and I put a kink in my neck placing the wires around the tree.  The whole process took three hours this year, and I am still alive.  The timer lights the tree from 4:00 PM to about 10:30 PM.
More neighbors on our block have lights, and it is festive out there in the evening.
Happy Holidays!  Peace on Earth, Goodwill to All!