They Really Don't Know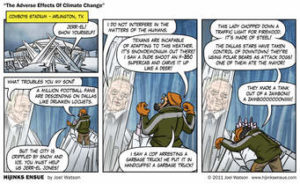 The weather.  It is always with us, and it often affects what we do any given day. Radio, television, the paper,  The Weather Channel, and AccuWeather all have lots to say about what is going to happen.  Why in the hell can't they do better?  Dammit, we need to know.  The meteorologists have a tremendous amount of information gathered from all over the globe.  The planet spins at a constant rate in its orbit around the sun.  So do better, already.
As long as our weather here along the Colorado Front Range is coming from the west I can look at the national radar map and do about as well as all those people with advanced degrees who understand what adabiatic means.  If the weather is coming up from the gulf, they do better than me, but that's about it.  By the way, it is probably going to rain in Seattle.
The weather tomorrow is probably going to be like today.  Except when it isn't.  There is enough rain for stuff to grow in the Midwest.  Not so much in Hanksville, Utah.  Oops, I have digressed from weather to climate.  Lots of people do that.  They point to the latest big storm or dry spell to deny climate change.  Apples and oranges, folks.  They both grow on trees, but that's as far as it goes.  We may be growing oranges in Paonia if this current trend continues.
Climate scientists can document the effects of big climate events like meteors hitting off Yucatán  or when big volcanoes send ash all around the planet, but have more trouble explaining long term trends.  One thing they can say for sure, the more carbon dioxide in the atmosphere, the warmer the climate.  There is a long term carbon cycle of sequestering and release of the stuff that is well documented.  Plants trap carbon.  The ocean traps carbon.  It gets stored, then something happens so more is released than stored.  These days, much arctic permafrost is thawing and releasing sequestered carbon.
That excess release is happening these days.  Methane is part of the cycle as well.  In the U.S., the highest atmospheric levels of methane are in the Four Corners region, home to thousands of oil and gas wells.  With lax or no regulation, many of those wells leak.  In addition,  in huge quantities are stored on the sea floor. If the global sea temperatures are raised by two degrees Celsius,  methane in those hydrates could be released into the atmosphere, accelerating the warming trend.
So, what is the tipping point where the warming trend is irreversible?  Nobody knows for sure.  We do know, however, that greenhouse gas in the atmosphere is increasing and left unchecked, reaching the tipping point is inevitable. We just don't know when.  Our earth has been through this warming – cooling trend many times.  The planet will seek equilibrium at some point.  This takes thousands to millions of years.  Humans don't work in that time scale.
Don't panic.  As John Maynard Keynes said, "In the long run, we're all dead."