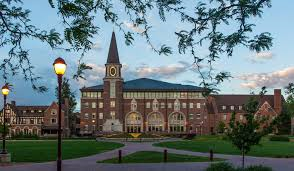 I have lived in college towns for most of my life.  They tend to be more liberal, have a vibrant cultural life, and steady infusions of young people having some of the best years of their lives.  The energy inspires me.
Grand Junction, Boulder, Fort Collins, Colorado Springs, even Greeley are all good college towns.  Here in Denver we live near the University of Denver.  I drink coffee and write in a coffee shop near the campus.  I write mornings, and the shop has a rush every hour when classes change.
We go to concerts at the Newman Center on the DU campus.  The student productions from the Lamont School of Music are always a lot of fun.  The musicians are excellent, and the operas are good, but the student voices are not always top quality.  I always want to hear Baroque music, and we go to concerts put on by Friends of Chamber Music.
The Newman Center also regularly presents professional artists from most everywhere.  Most notable recently are Cameron Carpenter, a wildly flamboyant and talented organist.  We just saw The Bill T. Jones/Arnie Zane Dance Company, a post-modern dance group from New York.  I was entranced by the dancers and the music, performed by Lamont students.
I am a little sad because Carol now refuses to ever see The Nutcracker again, and this year she would not go to see Oklahoma!  I just don't know what is wrong with her.  When we lived on Capitol Hill we went to some productions at The Denver Center of Performing Arts, but the events at DU are less expensive and the Newman Center is one of the best venues anywhere.
I am not much for sporting events, but DU's Lacrosse team is good and I have seen several games.  It's a good game, fast, with more scoring than soccer, making it more fun to watch.  The crowds are fun as well, with a lot of youth lacrosse players watching the college boys.  There are always some fans of the other teams as well, because Denver draws people from all over the country.  It is also good that DU dropped football in the1950's.  I used to watch Colorado College hockey when I lived in Colorado Springs, but haven't been to a DU game yet.
Denver is a big city with several colleges.  Some of the colleges have neighborhoods that are part of the big city but qualify as college towns.  The area around DU is an example.  The Auraria complex has CU Denver, Metro, and Community College of Denver, with many more students than DU, but the area is a downtown complex, with most of the students commuting.  There is no college town feel there.
Capitol Hill has some of the feel, with a young population and a diverse, eclectic cluster of communities, but no college of any size.  DU, however, has dorms, lots of apartments, rental houses, and fraternities and sororities.  A real resident population, much like Boulder, Greeley, and Fort Collins.  People walk, go to events, party, and hang out in bars,restaurants, and coffee houses.  I didn't know how much I missed all that until we moved into the neighborhood.  Evans Avenue, University Boulevard, Old South Pearl, Washington Park, and Observatory Park are places that tie the community together, with a fine University at the center.  I lived near Colorado College in Colorado Springs that had much the same feel, just on a smaller scale.
College towns, my favorite urban settings, I want to live in them always.