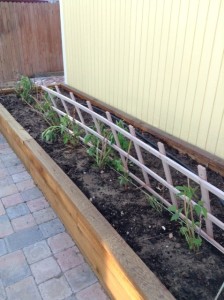 I am married to an artist.  She paints, she writes (lately, haiku), is doing lots of cooking with our new kitchen, and she gardens.  It's spring, so a lot of our effort is going into the garden. I willingly garden, but it is mostly the labor part. I dig, I built a cold frame and re-glazed it, I water and help plant.  I do not, however decide what to plant or where.  I am getting better at pruning with my left-handed Felco Pruner.  I mow, compost, rake, clean up, water, and haul.
We are landscaping in back, so lots of things are changing.  We have a nice new patio with a pergola.  The iris are already in along the fence and in the alley just outside.
The project this week is raspberries.  We had a 15 foot long cedar planter built just in front of the big blank slab of a garage wall that is YELLOW.  I prepared the planter soil with compost made from last falls leaves and a lot of coffee grounds from the coffee shops.  The raspberries will get fairly high and will break up that expanse of garage.  We were planning to have the raspberries planted by the pros but Carol got a call from a woman she met at a class offering free raspberries.
We jumped in my pickup and went over to their garden in what used to be a run-down neighborhood between I-25 and Highlands.  It is being transformed with new construction, but still retains some of the flavor of what it used to be.  We dug up about fifteen plants, brought them home and planted them. They were bare root, so some of them are looking pretty droopy, but I think they will make it.  My job is to set some eight foot cedar posts and run wires between them to support the raspberry canes.  The bushes can get about six to eight feet tall.  I can't wait to have fresh raspberries in my muffins.
Our perennials are doing fine.  We were a bit worried after that early hard freeze we had last fall.  Even Carol's attempt to clone the Pacific Northwest with a salal plant and some azaleas survived.  There is a deciduous bush next to the front door that is supposed to be evergreen that lost all its leaves.    It has lots of little buds and a few leaves, so I think it will be all right.
One of the things we are getting done in front is putting big rocks and some perennials on the slope from the lawn down to the sidewalk.  I am not getting any stronger, and that slope is hard to mow.  It also gets dry in summer, as it faces west.
Our Little Free Library is up and running. It is one of the features on the slope.  It is so much fun going out to check the books.  We get quite a bit of business, but no problem, because people keep bringing us books.  It's painful, but I am culling some of my books.  It seems like some of my soul goes with them.  I hope they will enrich the soul of their next owner. It is good, life as a householder.