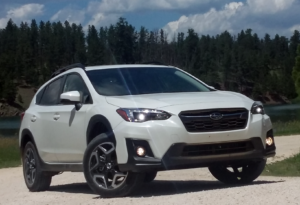 We live in a car culture.  The economy is based on the auto an oil and gas industries.  Most of us think of cars as a gateway to personal freedom.  We devote much of our resources, monetary and mental, to the automobile. Our culture is so strong in its emphasis on cars that we  have succumbed.
Carol's car was getting old and the new safety equipment with all the sensors and warnings seems more important as we age.  She has a Mazda crossover SUV.  I got a Subaru Crosstrek, good for light backcountry driving.
My old ride was a fine 2009 Toyota pickup, great in the boonies but I am giving serious four wheeling up.  Too much risk at my age because I tend to go alone to tough places and turn off into tougher places.  My regular driving has changed as well.  Every few years I have a momentary lapse and some sheet metal gets bent.  This time I pulled out in front of an oncoming car.  $4000 damage to my truck, probably about the same to the other car.
Now there is technology in cars to help prevent some of those events.  I need as many external sensors as I can get, as my built in sensors have never been all that good and are getting a bit worse as I age.  That safety stuff is a bit expensive, but cheaper than an accident.
I am attempting to let go of as much artificial desire as possible and a new car doesn't fit with the goal.  Well, whatever.  "We're living in a plastic land."  I could do most of my running around on my bicycle(s), and did for a while, but got away from riding.  I am not sure I will start again.  So I am going to support the Japanese auto industry and support our auto broker.
Instead of letting desire go I am feeding a craving.  Will I ever be able to let go before age and infirmity force me to?  Stay tuned.