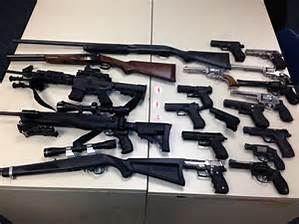 I am from Western Colorado-outdoor sportsman central.  Hunting big game, small game, ducks and geese, most any things that moves was a way of life.  I grew up around guns as my father hunted and fished.  I hunted as well, but fishing never appealed to me-too boring. 
I was always fascinated by guns.  I liked the mechanical precision, the looks, the way they felt in my hands.  There was, of course, another set of reasons for my fascination.
Guns are for killing.  When hunting, I was repelled and attracted to the act of killing. I would walk along hunting rabbits thinking "Why am I here, I don't like the killing?".  As soon as a rabbit jumped, the gun came up and I was shooting.  More than once I have sold all my guns, swearing off them, only to find myself in a gun shop. 
In Army basic training I became welded to the famous old M1 Garand rifle.  I still like the damn things, although I haven't bought one as a civilian.  In Germany I got an M14, much like the M1, but holding 20 rounds instead of eight.   
When I got promoted I was given the responsibility for a .50 caliber Browning machine gun.  Completely assembled it weighs about 120 pounds and fires a cartridge about six inches long, with a bullet half an inch in diameter.  We went to Wildflecken, Germany, the traditional invasion route for eastern invaders, to shoot the thing across a canyon.  It sure was fun.  It sure did give me a significant hearing loss. 
The real reason for my fascination with guns, however, is fear.  I have been afraid for my safety for as long as I can remember.  The cause?  Probably some abuse I experienced at a young age.  I remember making a tent out of a card table and blankets in the living room when I was home alone.  I would get under there with my .22 rifle and dream about driving the invaders away.     
The gun magazines used to be mostly about hunting arms, now they are filled with articles about protecting your home from hostile invaders.  That is right down my alley, even though I live in a safe neighborhood and have never experienced any need for protecting myself with a gun for 73 years.  This is a big cognitive disconnect in my life.  I think the strategy is to not read that stuff.
To deal with my fear I am now using a mindful meditation technique.  I meditate watching my breath.  When any fear-related thoughts arise, I notice them, name them "fear, fear", and watch them fade.  I also have the fear thoughts arise at other times, as when driving.  I say a short prayer, sometimes several times, until the fear thought fades.  I do this many times during the day.  It works. The thoughts leave, and they are not recurring with the same frequency.  I feel better, and have more energy for useful things.  I am not doing this to seek enlightenment, I am doing it to rid myself of wasteful thinking so I can focus on the good.