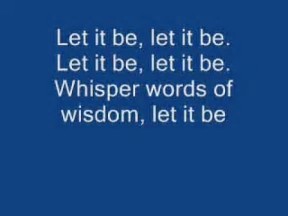 Let it Be.  "When in times of trouble, Mother Mary comes to me, speaking words of wisdom, let it  be."  Lennon-McCartney.   
I recently experienced a minor time of trouble.  Call it depression, a post-retreat counterattack, call it what you will, I was not in a good place for a while.  All my old bad habits and thoughts came roaring back.  Usually I keep that stuff at bay with prayer and meditation.  In the past I used alcohol and marijuana, but they only postpone things. 
During the bad period my meditations were all about the unhealthy stuff and I did not pray.  A spiral into depression ensued.  I have enough things to do in my daily life to keep myself from slipping into a major depression.  I just don't have the time.  In a major depression all I want to do is lie in bed or the bathtub. 
This go-round I watched a lot of car, motorcycle, and airplane crashes on You Tube.  I also watched a lot of the violence scenes from Sons of Anarchy and boxing knockouts.   Fun, huh? 
The weekend went pretty well, we went to a good modern dance concert after dinner Friday evening, did some gardening Saturday, and the Sunday Insight Meditation dharma talk was a good one.  
Monday morning I woke up to a new world.  I felt good, the weather was fine, and I found myself praying and my meditations went where they should.  Why the change?  I have no idea. Maybe my meditation and prayer practice is working.  I am again able to let it be.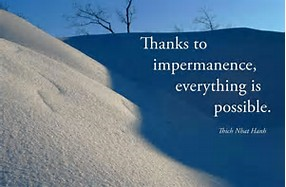 I tend to have some obsessive thoughts about sex or violence. They arise, and if I pray a short prayer, they pass away.  Over time, they have diminished a great deal.  However, during my down periods, they come roaring back.  If I entertain them at all, they stick around.  A sort of feedback loop is generated.  The thought arises, I entertain it, it gets stronger, and I slip into unwise actions.  
What to do when the thought arises?  Let it be.  It, like all phenomena, will pass away.  Prayer helps.  I know people who hold on to unhealthy thinking most of the time.  They suffer.  The more they suffer, the more the unhealthy thinking stays with them.   
To live like this is a decision.  Unhealthy thoughts may arise from the labyrinth of the brain, but holding on to them is a choice.  The choice is self-reinforcing, so breaking the habit is tough.  We can, however, choose to break the pattern.  Not all days are bad days, even for someone in the depths of depression.  We have opportunities to break out. Almost everyone has opportunities to end their suffering.  Still, at times, the choice is to suffer.