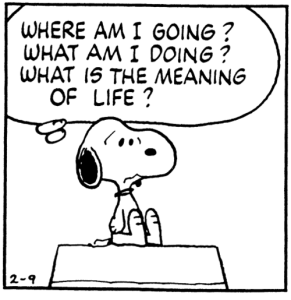 Sitting in the coffee shop I see that the meaning of life for the two year old running around the room is love, connection, and the joy of moving.  That little boy, expressing sheer joy, has managed to communicate that feeling to everyone in the room.  That is as it should be, and is probably as far as we really need to go.
As we get older, it gets more complicated.  Pain, loss, death, and suffering come into our lives.  Finding Meaning in the midst of suffering is difficult for many of us.  Many people find their meaning in following.  They follow gods, rulers, gurus, preachers, the girl next door, teachers, or their family and tribe.
Some of us, however, refuse to follow.  One of my mottoes is "Don't trust anyone who says he knows the will of God."  I prefer to think for myself.  I search for answers and have for as long as I can remember.    I am 72 years old and I am still searching.  I have had a number of peak experiences.  These experiences have come in several contexts, Christian, Buddhist, chemical, and in nature.
Every experience was life changing, giving me a new way of seeing and being.  Sometimes they are brief, fleeting.  Other times I have dwelled in the grasp of divine love for as long as a year.  I have prayed without ceasing, done mindfulness meditation, spoken in tongues, laughed in ecstasy, cried with joy, and had years of no spiritual connection at all.
I know that a spiritual connection does not have to come in any specific religious context.  I do not, however, know how to maintain that connection all the time.  It is just not "After enlightenment, the laundry."  It is not being able to sustain a practice for a sustained period.
Do I lack discipline?  No.  I have maintained a discipline for an extended time and had an event that broke the connection.  Am I a spiritual dilettante?  It seems so.  Most of the time,however, I am a spiritual nobody.
It's a mystery.  I know without any doubt that there is more to life and being than this round rock we ride through space.  I have seen the eternal web of universal connection and oneness.  I have been wrapped, enveloped in God's love.  I have received spiritual gifts.  I have shared those gifts.
Now it seems that my task is to live in the world as a householder and writer.  I do a ten minute meditation every morning and that's it.  Most of the time the meditation is clutter.  Sometimes I get an experience of complete peace.  That, for now, is enough.
I am not called to lead, to take action in the world.  I learn, reflect, write a little, try my best to be a good husband and friend.  I have family, which is saying a lot, as I come from a family with weak ties.  Today the ties are strong and growing.  Love.
Another task before me is to smooth out the bumps in my brain.  I get angry, irritable.  I obsess about meaningless things.  I get depressed.  I forget and procrastinate.  I eat too much and don't exercise.  Lots to do.  It is time to be in the world and find meaning here, not out there.